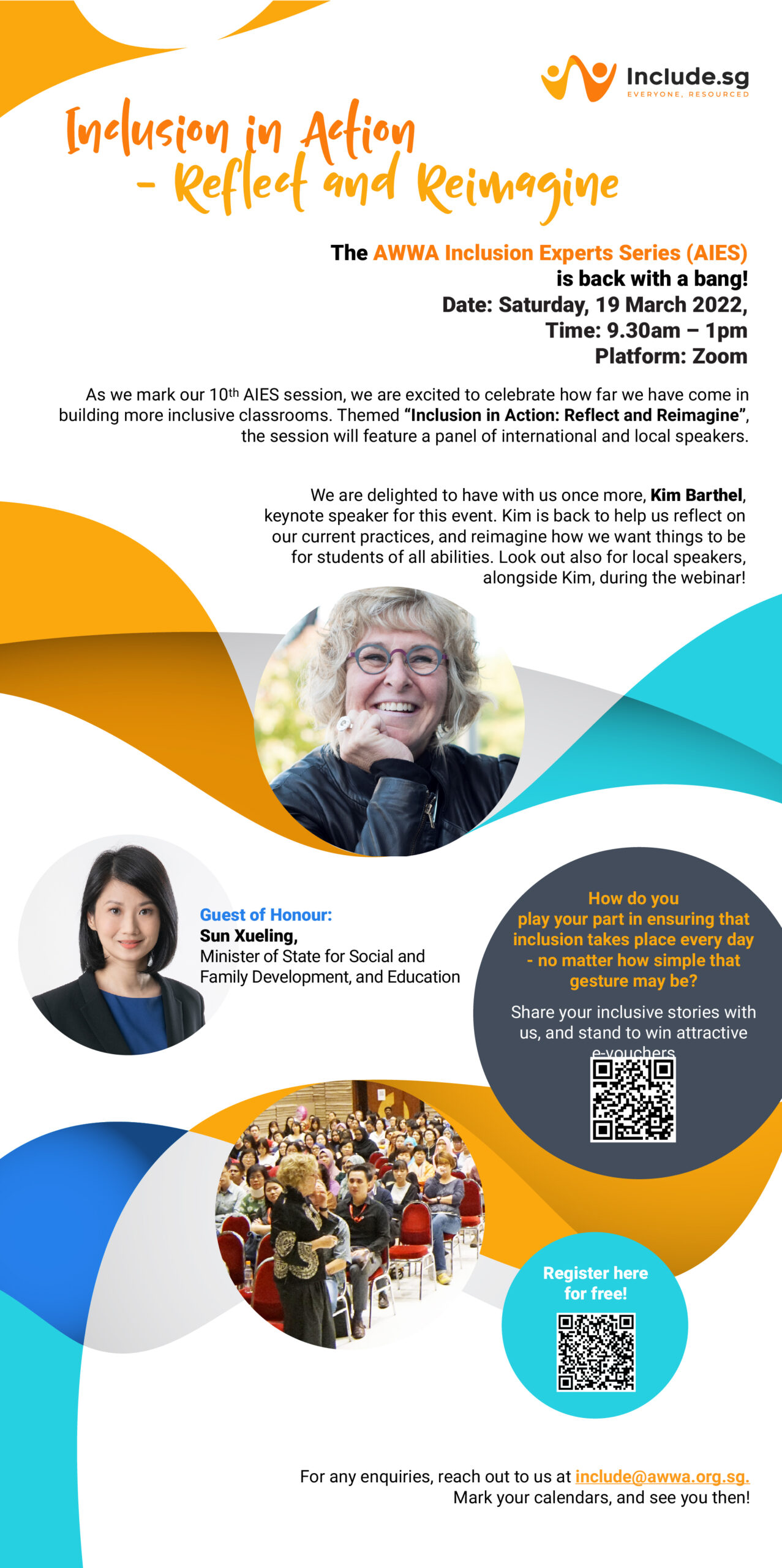 10th AWWA Inclusion Experts Series – 1st 2022
19 March, 2022
The 10th AWWA Inclusion Experts Series (AIES) was back with a bang on 19 March 2022, Saturday, 9.30am – 1pm!
Over 1,000 of you joined us as we celebrated how far we have come in building more inclusive classrooms. Themed "Inclusion in Action: Reflect and Reimagine", the session featured a panel of international and local speakers. Minister of State for Social and Family Development, and Education, Ms Sun Xueling, also joined us at the celebrations.
Keynote Speaker:
Pioneer speaker at the first ever AWWA Inclusion Experts Series session, Ms Kim Barthel, was back to join us at the 10th AIES session, "Inclusion in Action: Reflect and Reimagine".
An award-winning occupational therapist, multi-disciplinary teacher and best-selling author who is active in supporting people in many contexts globally, Kim's overall mission is to support the conscious evolution of the human spirit. A long-time ally to many organisations across Singapore, Kim has over 37 years of practice in helping people to be their best selves.
Outline of Kim's session:
– Looking through both a therapeutic and an educational lens, Kim's presentation will highlight our history with inclusion, and illuminate current evidence-informed best practices in inclusive pedagogy, philosophy, and day-to-day classroom engagement.
– A global perspective will be offered to encourage therapists and educators to consider common challenges that are faced across the world, and to be inspired to create a more pragmatic and compassionate society for all of us.
– Highlighting examples of inclusion in action within various context including Singapore and beyond, will encourage participants to want to further explore what might be possible.
– The intention is to expand our own creative perspectives so that we might individually and collectively continue to make this broader journey across the sector with purpose.
You may download a copy of Kim's presentation slides from the webinar here.
View a recording of the webinar here.
Local Speakers:
Local speakers, Lee Ting and Karthik, also joined the session, touching on the topic of "Engaging Diverse Participation in Schools".
Ms Lim Lee Ting, Vice Principal, Little Mighty Me Preschool:
Ms Lim has an Advanced Diploma in Special Needs Education and Inclusive Education. Currently part of the Little Mighty Me Prechool Learning Support team, she is one of the school's pioneer batch of educators, and has been with the Centre for nine years. Little Mighty Me aims to promote inclusion through a supportive environment and a child-centred curriculum. She is passionate about making a positive difference in the lives of her students, and ensuring that each one of them receives the support needed to fulfil their potential.
Mr J R Karthikeyan (Karthik), Chief Executive Officer, AWWA:
An occupational therapist by training, Karthik has, over the years, remained passionate about empowering clients and supporting their participation and inclusion within their natural communities. He believes that each one of us holds a shared responsibility in fostering an inclusive society.
Share your stories of Inclusion in Action, and stand to win attractive e-vouchers!
How do you play your part in ensuring that inclusion takes place every day – no matter how simple that gesture may be? Or, would you like to commend someone for their inclusive practices? Stand a chance to win attractive e-vouchers when you share your story with us via Padlet. Look out for winners who will be announced soon on AWWA's  Facebook and Instagram channels.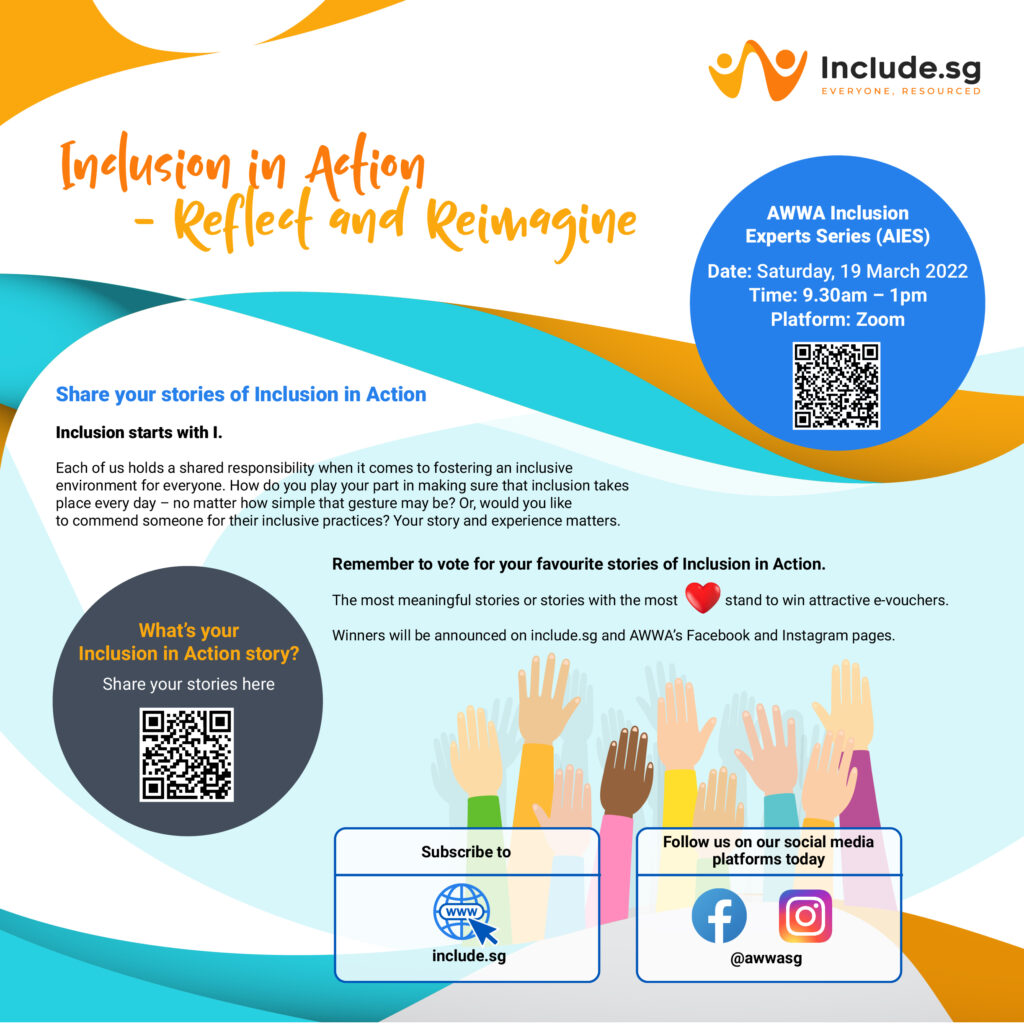 Thank you for joining us as we celebrate the milestones we have crossed in our efforts to build a more inclusive society. For any queries, reach out to us via include@awwa.org.sg.
Each one of us holds a shared responsibility when it comes to fostering an inclusive environment for everyone. Join us in our mission to promote and create more inclusive environments in communities across Singapore.