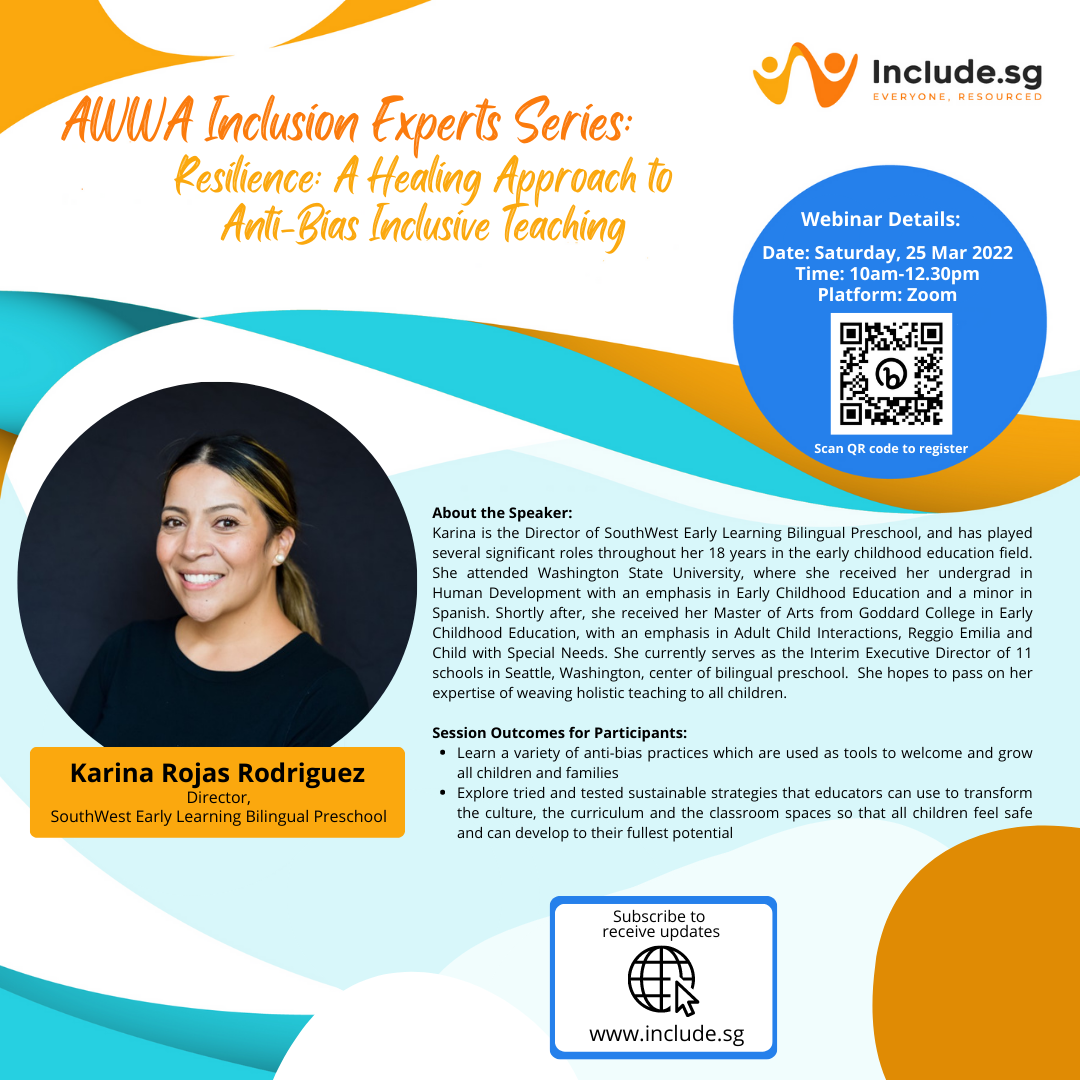 13th AWWA Inclusion Experts Series – 1st 2023
25 March, 2023
Thank you for joining us at this year's first AWWA Inclusion Experts Series (AIES) webinar!
Titled "Resilience: A Healing Approach to Anti-Bias Inclusive Teaching", we were joined by Ms Karina Rojas, Director of SouthWest Early Learning Bilingual Preschool, Seattle, Washington, United States. The session was facilitated by Ms Ebba Fernandez, Clinical Head (Speech and Language Therapy), Allied Health Professional Group, and Lead, Inclusion Practice, AWWA Ltd.
About the Keynote Speaker:
Ms Karina Rojas Rodriguez
Director, SouthWest Early Learning Bilingual Preschool
Karina has played several significant roles throughout her 18 years in the early childhood education field. She attended Washington State University, where she received her undergrad in Human Development with an emphasis in Early Childhood Education and a minor in Spanish. Shortly after, she received her Master of Arts from Goddard College in Early Childhood Education, with an emphasis in Adult Child Interactions, Reggio Emilia and Child with Special Needs. She currently serves as the Interim Executive Director of 11 schools in Seattle, Washington, center of bilingual preschool. She hopes to pass on her expertise of weaving holistic teaching to all children.
Session Outcomes:
– Learn a variety of anti-bias practices which are used as tools to welcome and grow all children and families
– Explore tried and tested sustainable strategies that educators can use to transform the culture, the curriculum and the classroom spaces so that all children feel safe and can develop to their fullest potential
You may download a copy of the presentation slides from the webinar here.
View a recording of the webinar here.
Check out resources related to the webinar topic below:
1. Do's and Don'ts of a Trauma Informed Classroom
2. Personal Self-Assessment of Anti-Bias Behavior Worksheet
3. Understanding Trauma Informed Care and the Pyramid Model: Supporting Resilience in Early Intervention
4. Challenging Behaviours: Hot Buttons
See you at at the next AIES! If you have any queries or suggestions, reach out to us at include@awwa.org.sg.
Each one of us holds a shared responsibility when it comes to fostering an inclusive environment for everyone. Join us in our mission to promote and create more inclusive environments in communities across Singapore.