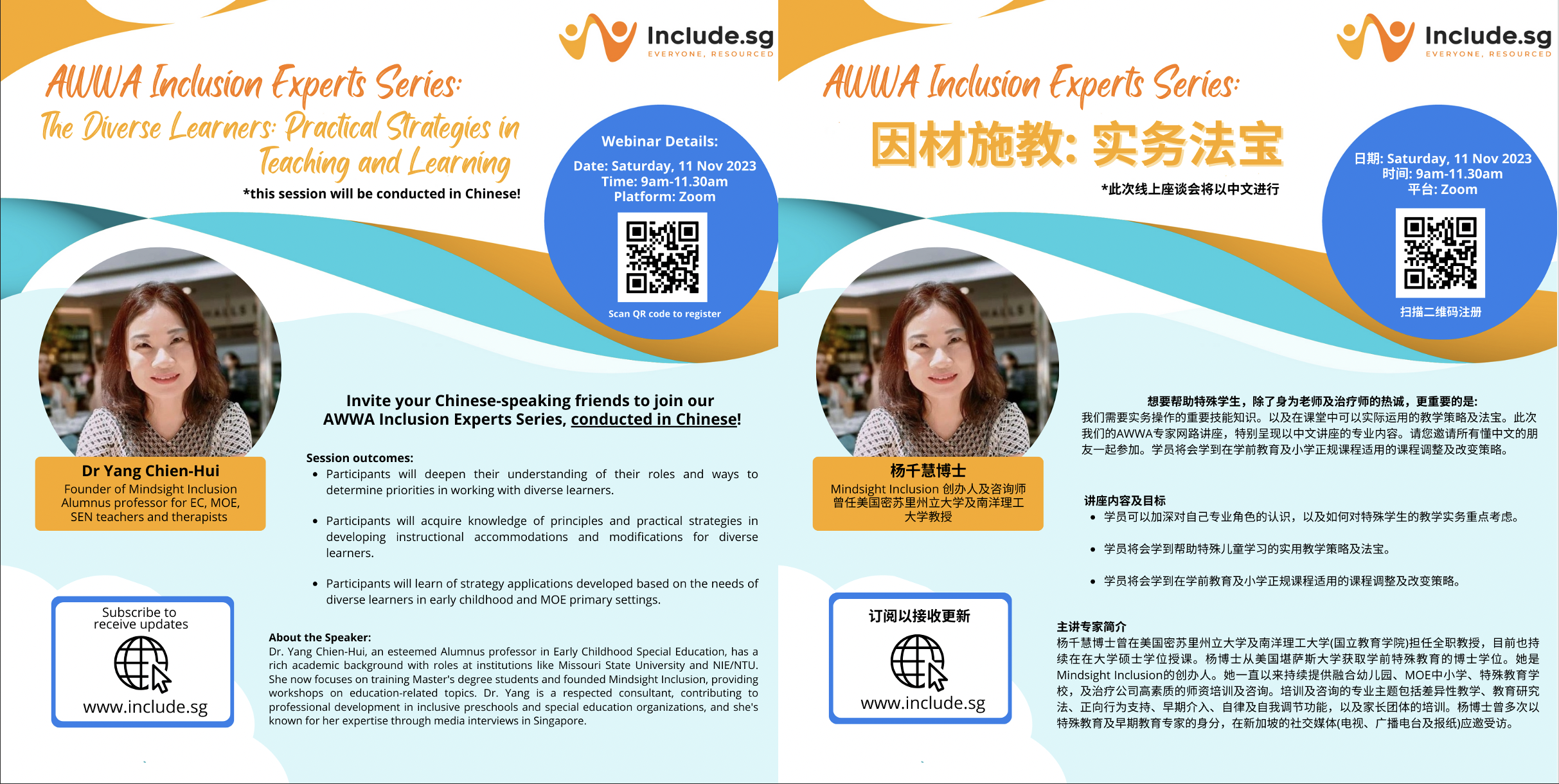 15th AWWA Inclusion Experts Series
11 November, 2023 to 11 November, 2023
Session Description:
想要帮助特殊学生,除了身为老师及治疗师的热诚,更重要的是:
我们需要实务操作的重要技能知识。以及在课堂中可以实际运用的教学策略及法宝。此次我们的AWWA专家网路讲座,特别呈现以中文讲座的专业内容。请您邀请所有懂中文的朋友一起参加。学员将会学到在学前教育及小学正规课程适用的课程调整及改变策略。
Invite your Chinese-speaking friends to join our AWWA Inclusion Experts Series, conducted in Chinese!
主讲专家简介:
杨千慧博士曾在美国密苏里州立大学及南洋理工大学(国立教育学院)担任全职教授,目前也持续在在大学硕士学位授课。杨博士从美国堪萨斯大学获取学前特殊教育的博士学位。她是 Mindsight Inclusion 的创办人。她一直以来持续提供融合幼儿园、MOE中小学、特殊教育学校,及治疗公司高素质的师资培训及咨询。培训及咨询的专业主题包括差异性教学、教育研究法、正向行为支持、早期介入、自律及自我调节功能,以及家长团体的培训。杨博士曾多次以特殊教育及早期教育传家的身份,在新加坡的社交媒体(电视、广播电台及报纸)应邀受访。
Speaker's Profile:
Dr Yang Chien-Hui, Founder of Mindsight Inclusion
讲座内容及目标
学员可以加深对自己专业角色的认识,以及如何对特殊学生的教学实务重点考虑。
学员将会学到帮助特殊儿童学习的实用教学策略及法宝。
学员将会学到在学前教育及小学正规课程实用的课程调整及改变策略。
Session Outcomes:
Participants will deepen their understanding of their roles and ways to determine priorities in working with diverse learners.
Participants will acquire knowledge of principles and practical strategies in developing instructional accommodations and modifications for diverse learners.
Participants will learn of strategy applications developed based on the needs of diverse learners in early childhood and MOE primary settings.
Each one of us holds a shared responsibility when it comes to fostering an inclusive environment for everyone. Join us in our mission to promote and create more inclusive environments in communities across Singapore.